Properties
Ubique owns 108 claims around the former Daniel's Harbour zinc mine situated approximately 10 km northeast of the town of Daniel's Harbour on the west coast of Newfoundland. The claims adjacent to Ubique's claims are primarily owned by Altius Resources Inc, a subsidiary of Altius Minerals Corporation. Approximately 7,000,000 tonnes averaging 7.8% zinc have been mined from the Daniel's Harbour mine (Wardle, R.J. (2000) Mineral Commodities of Newfoundland and Labrador - Zinc and Lead; Government of Newfoundland and Labrador, Geological Survey, Mineral Commodities Series Number 1, 12). The Ubique claims comprise three zones, namely P Zone, Cobo's Pond, and Tilt Pond.
P ZONE
In September 2017 a 9 hole drilling program was completed on the property. The highlight of the 9-hole program was Hole UM-4 which intersected 13.6% Zinc over 39.9ft including 17.43% Zinc over 28.2 ft.
Other drilling highlights include:
Hole UM-6 intersected 5.06% Zinc over 37.8ft including 13.80% Zinc over 9.9ft
Hole UM-5 intersected 14.06% Zinc over 2.3ft including 23.4% Zinc over 1.3 ft
Hole UM-7 intersected 12.79% Zinc over 5.4ft
Hole UM-8 intersected 10.8% Zinc over 2.1ft
Hole UM-9 intersected 5.37% Zinc over 13.7ft
The results of the drilling program, together with historical estimates, are anticipated to form the basis of a NI 43-101 mineral resource report on the Daniel's Harbour property which will be completed by the end of 2017.
A full summary of the drilling results is provided in the Composite Drilling Results Table below:
Daniel's Harbour Composite Drilling Results Table*
Hole No.

From Feet

To Feet

Width Feet

Percent Zinc

UM-4

Including

159.1

170.5

199.0

199.0

39.9

28.2

13.60

17.43

UM-5

Including

210.7

210.7

213.0

212.0

2.3

1.3

14.06

23.40

UM-6

Including

184.0

184.0

221.8

193.9

37.8

9.9

5.06

13.80

UM-7

217.9

223.3

5.4

12.79

UM-8

216.6

218.7

2.1

10.80

UM-9

181.7

195.4

13.7

5.37
*Excluding Holes UM-1, UM-2, and UM-3 which had no measurable results.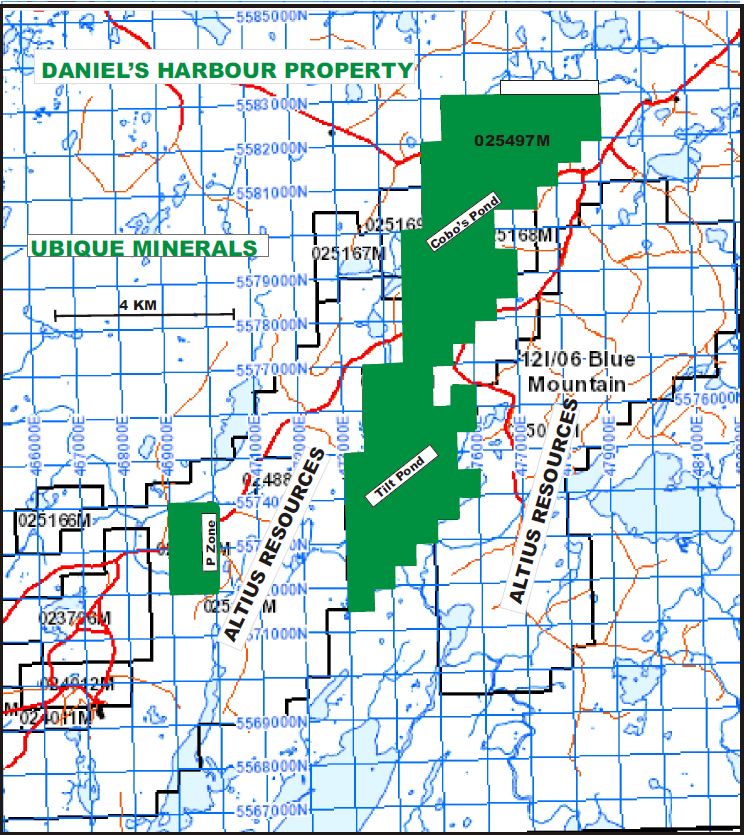 COBO'S POND
The Cobo's Pond claims were acquired in November 2017. Ubique management believes that the Cobo's Pond claims are strategically significant, as they could potentially contain the extension to the mineralized horizon hosting the high-grade intercepts from the 2017 drilling program.
TILT POND
The Tilt Pond claims were acquired in November 2017. The Tilt Pond claims cover a southern mineral trend adjacent to previous drilling completed by Teck Exploration in 1990 on the adjacent Black Duck and Trapper claims (Newfoundland and Labrador Department of Mines, Geofiles Metadata Search)
Find out More about Ubique Minerals
Sending form...
Form is Sent!
Feel free to explore the rest of our website.