Properties
Ubique owns 108 Mineral Licenses around the former Daniel's Harbour zinc mine situated approximately 10 km northeast of the town of Daniel's Harbour on the west coast of Newfoundland. The Mineral Licenses surrounding Ubique's property were registered by several companies and individuals after Ubique announced the encouraging results of its 2017 diamond drilling program.
Approximately 7,000,000 tonnes averaging 7.8% zinc have been mined from the Daniel's Harbour mine (Wardle, R.J. (2000) Mineral Commodities of Newfoundland and Labrador - Zinc and Lead; Government of Newfoundland and Labrador, Geological Survey, Mineral Commodities Series Number 1, 12). The Ubique claims comprise three zones, namely P Zone, Cobo's Pond, and Tilt Pond.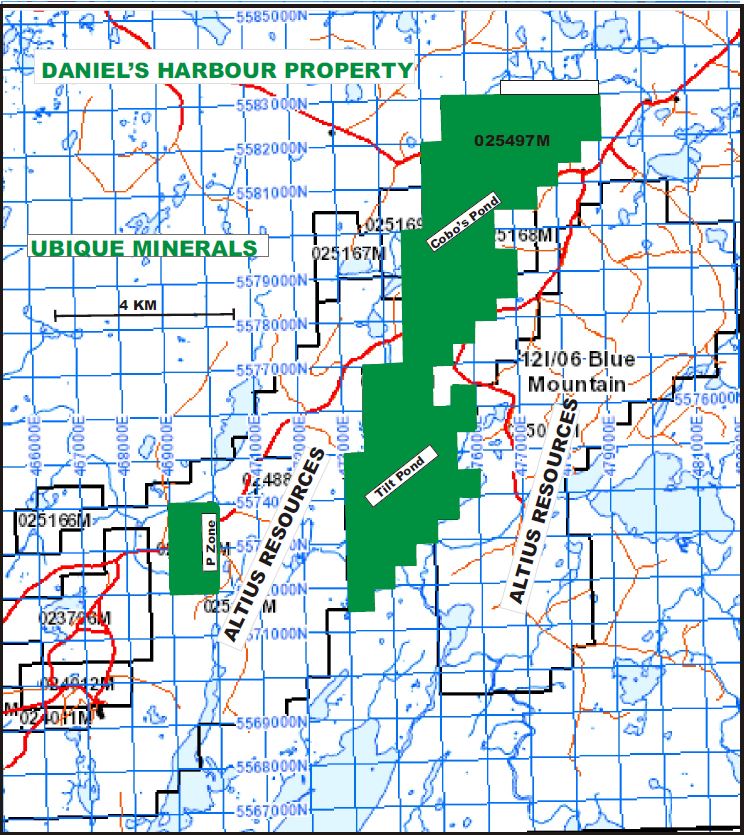 P ZONE
The initial diamond drilling program in 2017 intersected zinc mineralization in six of the nine holes drilled including hole UM-4-17 with an exceptionally high grade interval averaging 13.6% zinc over 12.2 metres, including individual 0.8 metre assay intervals as high as 35% zinc. A complete summary of the results of the drill holes is given below.
Three of those drill holes were targeted at an interpreted trend of mineralization extending north from the mined out area of the P Zone. They all intersected altered, brecciated rocks, typical of those hosting zinc mineralization in the former mine area elsewhere but none revealed zinc values suggestive of a deposit. The other six holes were drilled to test an interpreted easterly trend of mineralization extending east from the mined-out area of the P Zone. These were all successful in intersecting zinc values suggestive of a continuous deposit. This trend has been named the P-East Zone and will be one of the targets for the 2018 drill program. Other targets include the P-North Zone and the Muddy Pond Zone where historic, wide-spaced diamond drilling interested the same favourable host environment as the P Zone.
Prior to the diamond drilling program which is getting underway, Company personnel have been searching for and finding many old diamond drill holes which are being plotted up, so as to integrate their information and reported zinc values into the overall interpretation of the mineralized trends.
| | | | | | | |
| --- | --- | --- | --- | --- | --- | --- |
| Drill Hole # | Easting | Northing | Dip | Interval | Zinc % | Zone targeted |
| UM-1-17 | 9169 | 3175 | -90 | | Trace only | P-North |
| UM-2-17 | 9162 | 3176 | -90 | | Trace only | P-North |
| UM-3-17 | 9180 | 3180 | -90 | | Trace only | P-North |
| UM-4-17 | 9260 | 2908 | -90 | 12.2m | 13.60 | P-East |
| UM-5-17 | 9344 | 2922 | -90 | 0.65m | 14.06 | P-East |
| UM-6-17 | 9300 | 2894 | -90 | 11.5m | 5.06 | P-East |
| | | Or | | 4.5m | 10.1 | P-East |
| UM-7-17 | 9348 | 2915 | -90 | 1.7m | 12.79 | P-East |
| UM-8-17 | 9350 | 2906 | -90 | 1.62m | 5.1 | P-East |
| | | Or | | 0.6m | 10.8 | P-East |
| UM-9-17 | 9307 | 2905 | -90 | 4.2m | 5.37 | P-East |
All drill holes were drilled vertically and all are interpreted to have intersected approximately true widths of the mineralized zone. A series of plans and sections showing the recent drilling and in the "Gallery" section are photographs of some of the sphalerite mineralized core as well as views of the area formerly mined and being drilled now.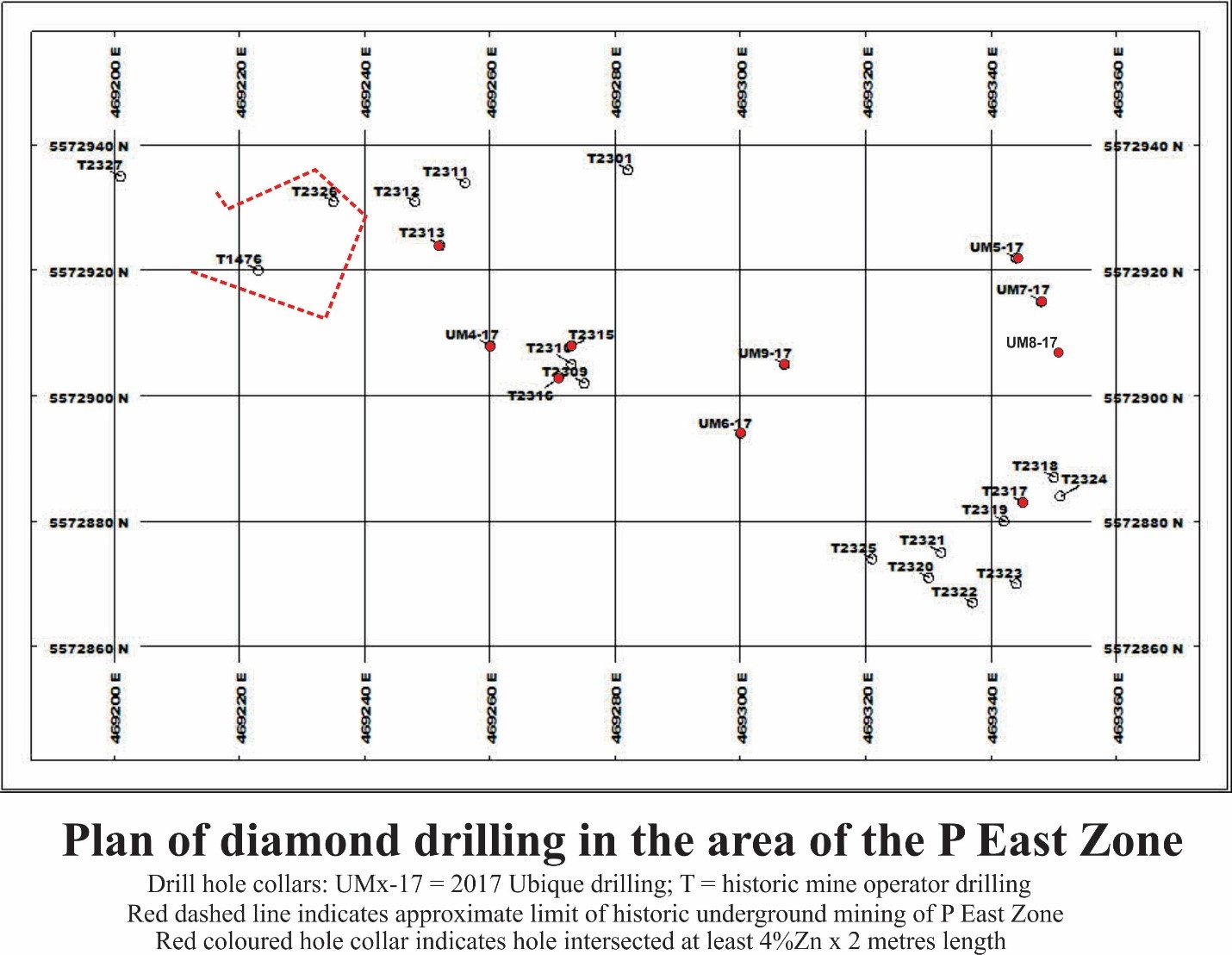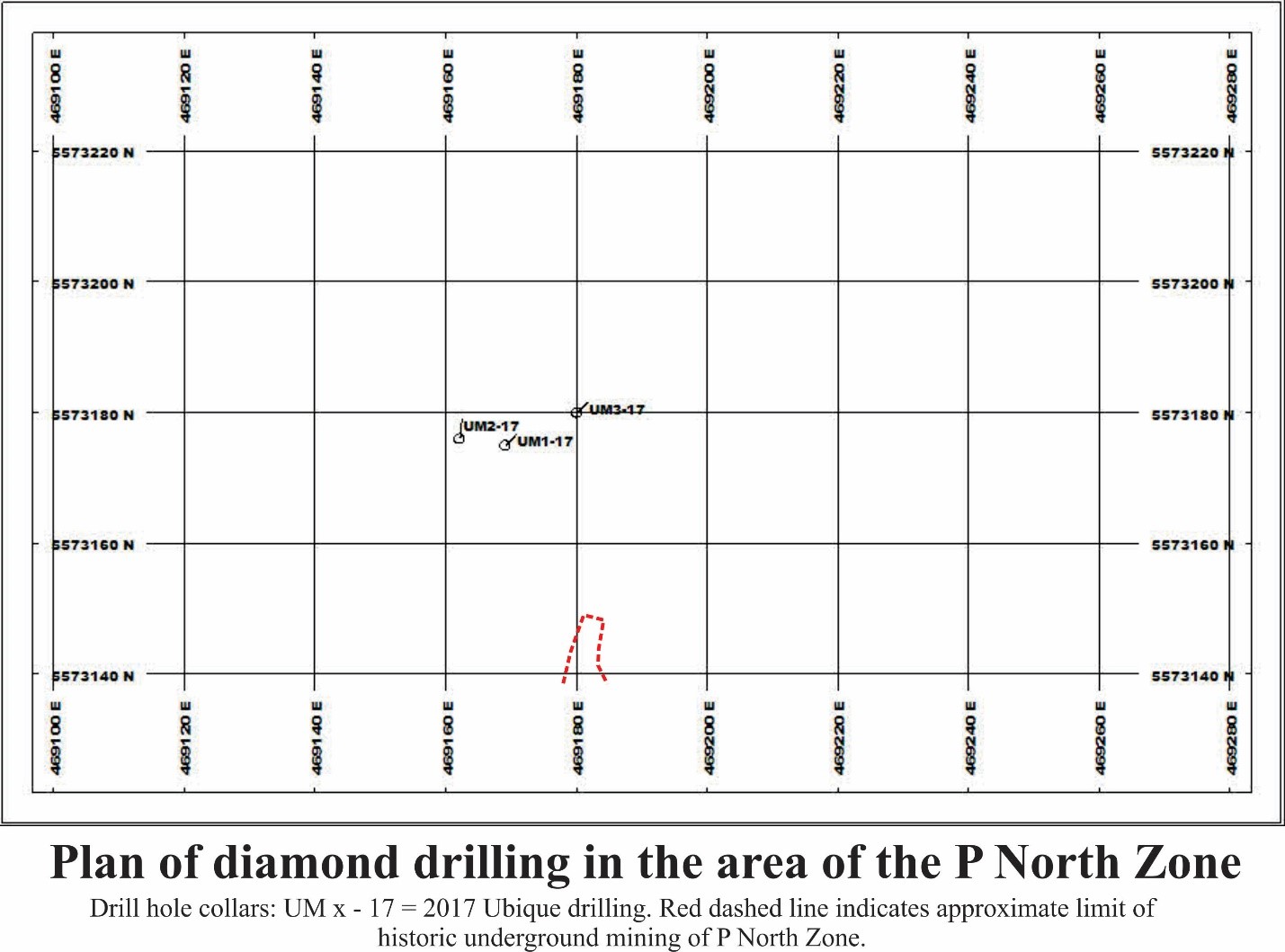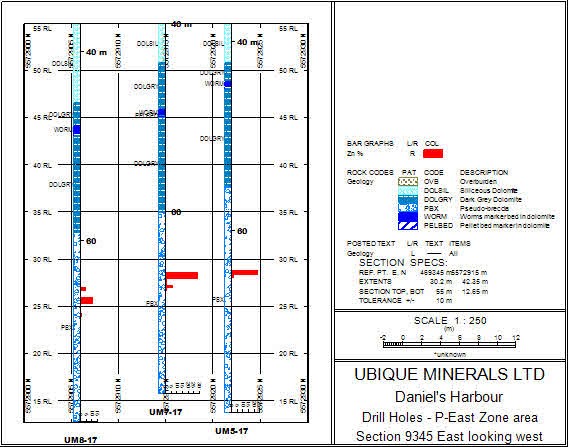 MP ZONE
The MP Zone is located some 400 metres south-southeast of the PE Zone and has been targeted on the basis of zinc values interested in one of a fence of historic drill holes which displayed similar concentrations of breccia to that found in the PE Zone. The section shows the historic drill holes. Given that they are historic drill holes the reader should not assume the validity of the assays information displayed in the section.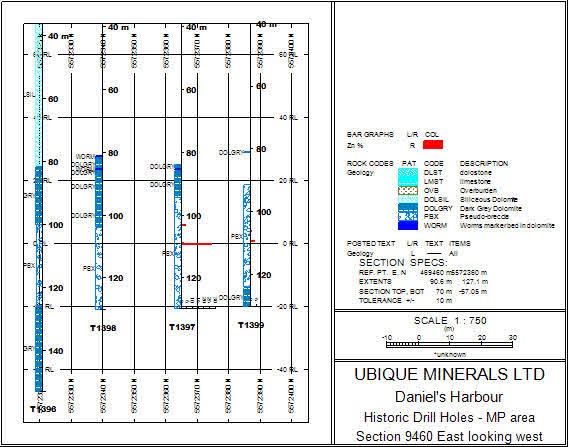 COBO'S POND
The Cobo's Pond claims were acquired in November 2017. Ubique management believes that the Cobo's Pond claims are strategically significant, as they could potentially contain the extension to the mineralized horizon hosting the high-grade intercepts from the 2017 drilling program.
TILT POND
The Tilt Pond claims were acquired in November 2017. The Tilt Pond claims cover a southern mineral trend adjacent to previous drilling completed by Teck Exploration in 1990 on the adjacent Black Duck and Trapper claims (Newfoundland and Labrador Department of Mines, Geofiles Metadata Search)
An initial soil geochemical survey in 2017 in the Tilt Pond area of the Eastern Mineral Licenses revealed an anomalous area. Follow-up sampling was conducted in June 2018 to determine whether the anomaly had any substantial dimensions. Those results provided more encouragement as they demonstrated the continuation of the first anomaly and revealed a second one as well. A third sampling program was completed in August 2018 for which sample results were received in October 2018. This sampling extended the area surveyed to a strike length of 2.4 kilometres and a width of 1.6 kilometres. The anomalous soils, defined as greater than 313 parts per million zinc extend along the west end of the grid and also along the south side, indicating that more sampling is needed on an extended grid in order to define the full extent of the anomaly.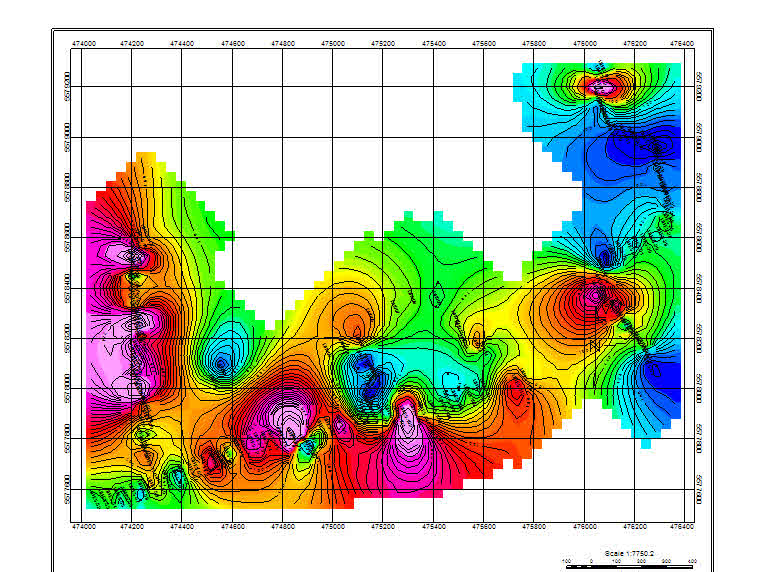 Find out More about Ubique Minerals
Sending form...
Form is Sent!
Feel free to explore the rest of our website.